You can whip up a free banner on sites like Picnik!
The importance of a good shop banner is almost as important as your pictures themselves.  The reason for this is two fold.  First impressions are key, but banners can help name brand your products.  Let's use Etsy for example although banners could apply to any online site or store. On Etsy, people may find your shop looking up a specific product in an Etsy search or a Google product search.  Once in your shop, they key is to keep them there. Here are some random selections for discussion.
Knitting Guru not only covers the Knitting and Guru part of her shop in her banner, but she has a wonderfully lovely photograph of an actual piece of her work. I really like this and think that it's a catchy shop name, one I'll be sure to remember. The guru part really borders on cuteness, and we know how much people like cute!  Now she does crochet and knitting, which is also stipulated in her banner.  So what do you think? Is it a fair example of her work?
Funamals is a shop of fun+animal watercolors by Amy Hofacker.  Her watercolor animal designs can be found on everything from water bottles and original paintings to cards to Christmas ornaments.  I really like the way in which she used one of her original watercolor works in her banner itself.  She is trying to brand herself and your mind is now subconsciously associating her shop name with the cute watercolor parakeet….. What do you think?  If you saw her banner would you know what she sells?  Would this name or shop be something you may remember?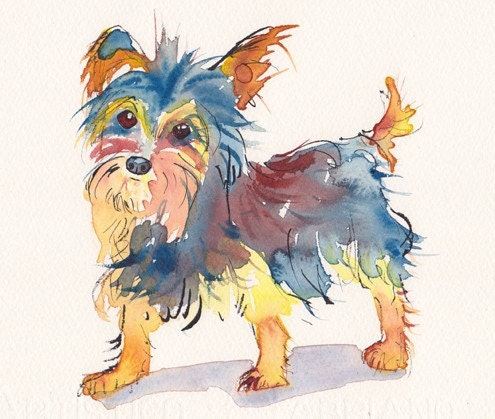 Yorkshire watercolor, $40, Funamals on Etsy.
Benchmark Custom Signs and Wonders
Benchmark Custom Signs and Wonders is owned by Phil, who primarily makes wooden signs for gifts or home decor. Many of his signs are upscale gift ideas for weddings, military personnel or monogrammed works of art.  Some are even made from upcycled cabinetry. His banner is a direct replica of one of his signs it seems. Would you know by looking at his banner that he makes such signs?  Is this something you would remember?

Moxiedoll sells embroidery objects and her banner incorporates her actual work in photographs.  I think this is a great example of using your work to do the talking for you.  If you were to only see her name "Moxiedoll" on the banner, you may never know what she sells would you?   It could be associated with dolls or retro, but in fact, she's a wonderful artist with needle in hand!  With over 5000 admirers of her shop, she's really doing good getting her products noticed.
So your goal today is to think about these key questions: 
1) Is your shop or web banner representative of what you sell?

2) Would a potential customer or visitor know what you sell from your banner?
3) Would your banner be remembered or associated with your product?
If you answered "no" to any of these questions, then you may want to rethink your banner before your customers shop elsewhere.