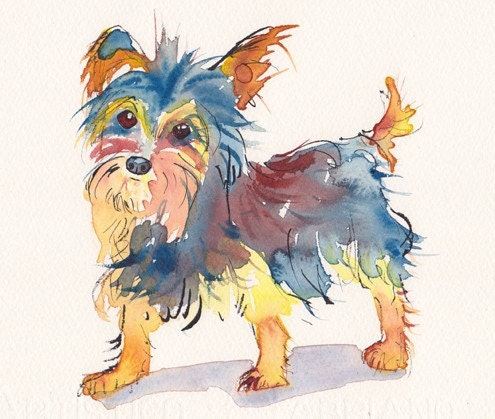 Yorkie original painting by Amy Hofacker of Funamals.
Get to know Amy of Funamals. This is a tale of painting at an early age, and her love for animals helped her achieve doing what she loves to do!  She makes custom pet portraits, and fun animal watercolor paintings. Her work appears on other items such as necklaces, greeting cards, and water bottles!
How did you hear of Etsy?
After I graduated from art school, my Mom mentioned Etsy to me. I wasn't sure about it at first, but after I checked it out I became addicted to it!
How long have you been painting? 
I have been painting for as long as I can remember. I probably started messing around with watercolor at age five or six! Maybe even earlier…it came easy to me. Some of my watercolors from elementary school are framed and hung up at my parents house. I remember being really drawn to picture books with watercolor illustrations. They are still my favorite.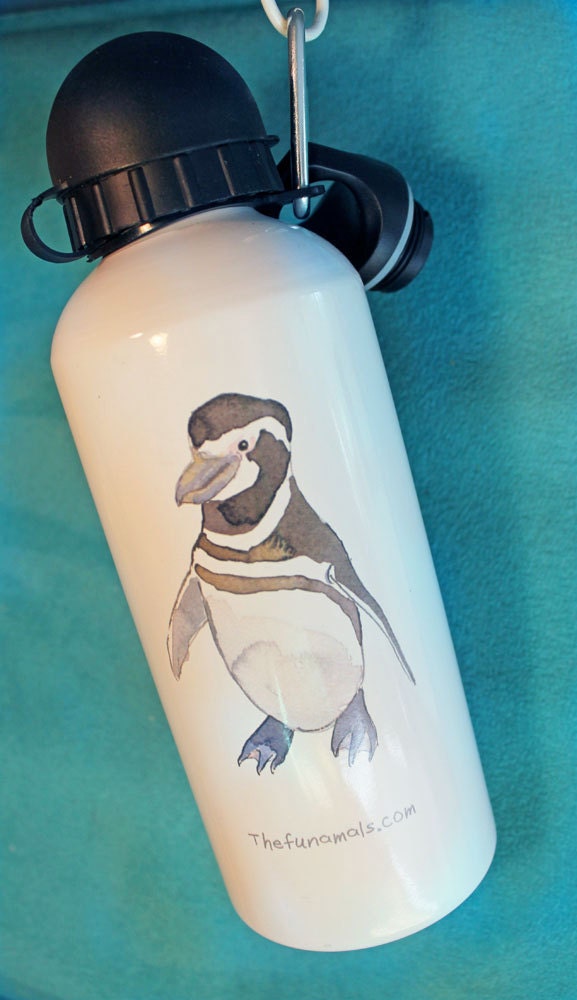 Amy's work appears on functional items like this water bottle.
So school helped further your career? 
When I was in art school I took an introductory course to watercolor, but it already felt like second nature to me. I continued to study it all through the illustration program I was in at Grand Valley State University. I have been doing it professionally now for just a couple of years.
What's the best part of selling handmade?
I think the best thing about selling handmade is being able to trade my own work for some awesome work by other artists and crafters. I also really like working from home…I have always been a home body.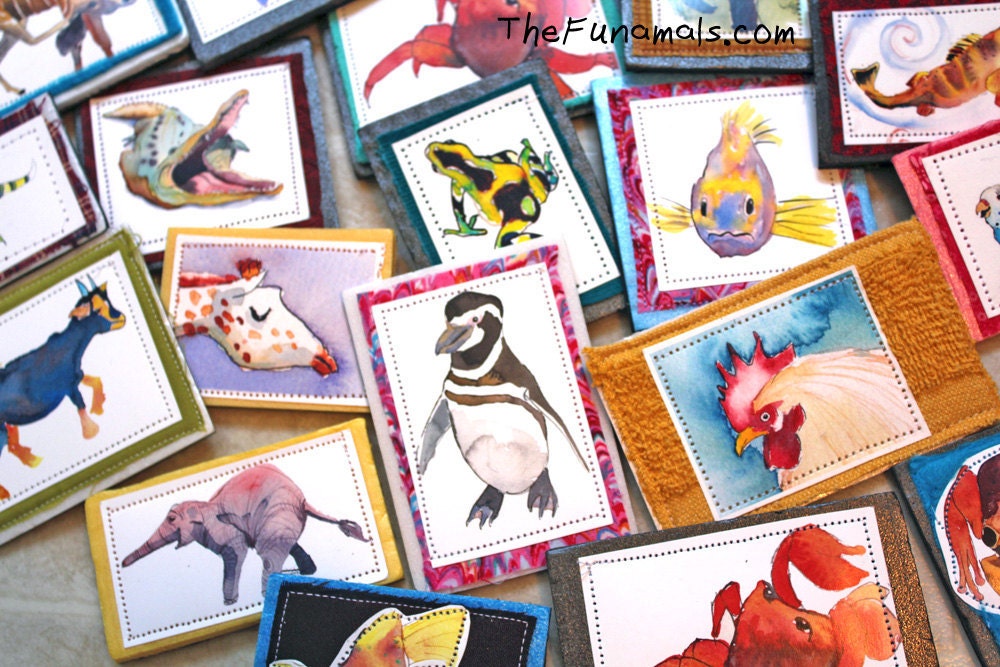 Funamals = animals everywhere!
You obviously love animals as they are the basis for the Funamals line!
I have always loved animals, but I didn't really realize this about myself until I worked at the John Ball Zoo in college. Working there played a large influence in my senior thesis show in college which, in turn played a large roll in my professional work. I loved learning all of the crazy facts about animals and sharing them, but talking to the public all day every day was too much socializing for me.
What else do you want people to know?
I really enjoy working independently in my studio at home, although after doing that for over a year, I learned that I needed some social interaction.  (This is one thing they did not prepare us for in art school. It can get lonely working by yourself all the time.) I learned that I need to make a point to be social. I joined a bible study and a yoga club in town, and also have a part time job as a server which helps pay the bills and gets me out of the house.  I work harder at keeping in touch with my friends. I just got engaged to be married over the holidays, and my fiance is an artist too. We work in our studio together a lot and that helps too!
Say "Hi" and connect with Amy here: 
On her website. 
On her blog.
Facebook.
Twitter.
On Etsy