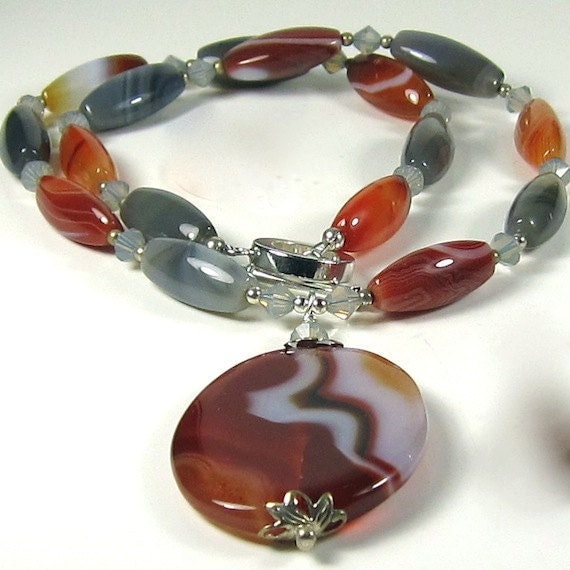 One of Kathy's necklace combos, such beautiful choice in stones, with earrings for $48.
I had a chance to sit down with Kathy Reading of Catju Designs on Etsy and find out more about her, and her passion for creating gorgeous jewelry! Her handmade artisan jewelry is designed and created in her studio near Baltimore Maryland.  She's been making jewelry for over 15 years, often in the company of her orange tabby cat!
How did you get into the lovely world of jewelry making ?
Many years ago, my sister bought me a jewelry making kit for my birthday, which contained semi-precious gemstone chips and rudimentary instructions. There wasn't a lot of information out there at that time about jewelry making, nor the abundance of places to buy beads and findings as this was before the internet. So I taught myself how to design and finish the jewelry that I made, trying techniques until I found something that worked. I was always worried that I wasn't artistic and that my creations were sub-par.
I kept making jewelry and started giving it as gifts, and then started selling. With the explosion of the internet and more readily available beads and findings, I began working with one of my favorite beads — Swarovski crystals — which I discovered matched up perfectly with gemstone beads. I began to concentrate in this area, which still remains a large part of my jewelry portfolio.   (I also do some beadweaving with seed beads, and have branched out into wire wrapping and some metalsmithing.)
Studio shot: Catju Designs
What is your studio like? 
Here's a couple of photos of my studio, which is quite messy and stays that way most of the time. When I have to decide on whether I want to make jewelry, or organize my studio, I'm sure you can guess what wins hands down. I do try and spend some time each month putting things away, but it still seems to stay very cluttered.
"Pookie" is the helper in her studio.
And here is a photo of my beading kitten Pookie. She always keeps me company and will sometimes stir from her nap to dispense design assistance. But her favorite thing to do is plop down amidst all of the supplies that I am using at the time and demand to be petted instead.
What are some of the highlights of being a jewelry maker?
I love working with vintage beads, buttons and findings, and often take apart broken vintage jewelry and use it to create something new.
I also enjoy getting together with my amazing beading friends. If you are looking to start making jewelry, you will meet an eclectic group of ladies (and some gentlemen too!) who are helpful and sharing. There is nothing better than getting together to bead — and chat on how your day was — and get tips, hints, and advice. So a big shout out to Becky, Vicki and Dev. And if you ever get a knot in your beading thread, Vicki is your go-to girl to get it out.
What brought you to Etsy?  
I opened my Etsy shop a little over a year ago, and am pleased to have made some sales and get my jewelry featured in other people's Treasury's!
What things have you done to help you sell on Etsy?   
I recently created a Facebook business page to try and get more exposure for my jewelry.
What else can you tell us ? 
I remember reading somewhere that in order to be an artist, you just need to create. So I am always creating something, even if it is an idea in my head.
Connect with Catju Designs: 
On Etsy
On Facebook