I recently interviewed Lynn of High Caliber Couture from Massachusetts. Her jewelry creations are one of a kind designs, so I just had to ask her a few questions.
Tell us how you started your craft!
I first started making jewelry while attending a full time professional metalsmithing program at the School for Professional Crafts, in Worcester, MA. At that time, I was also introduced to kiln formed glass and fell in love with the ethereal flow of the glass and switched gears.
Flash forward to 2012 and am once again making jewelry but in a much different way. My jewelry now is truly an expression of who I am. More art than craft and I say that because my jewelry may not be technically constructed in traditional techniques, it is created using elements that may not be considered "jewelry making" supplies such as safety pins instead of a jump ring.
What is your favorite piece in your shop? 
My favorite piece in my shop right now is "Just Be" (shown above) Not only is it bold, and edgy, but I feel, glamorous as well. A contradiction and collision of 2 worlds. I also like the message a bumble bee represents.
Where does your inspiration and motivation come from?
My motivation comes from a need to create. I have been creating in some form or another since I can remember and it is as necessary as breathing for me.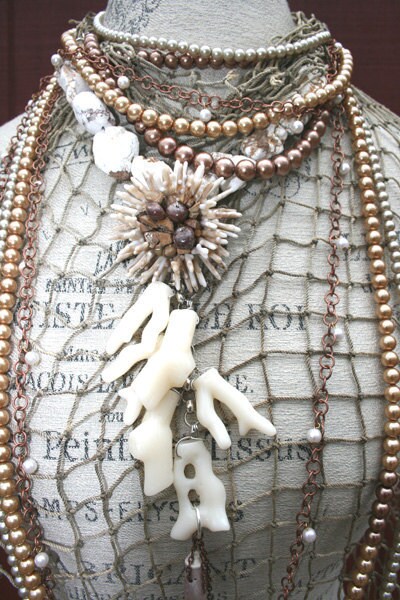 This "Seaside Sensation" statement necklace features an antique fish net in the work itself, $195
So you think some of your creations are over the top?
LOL. Yeah, I guess some people may think that. I just think, why be boring? Have fun with fashion. It is what gets me thru the day sometimes. If I got up every morning and threw on some sweats and a baseball cap, I would surely be depressed. I dress like every day is a special occasion, because it is and that includes bold accessories. My combining such things as bullets and pearls is just another expression of me, my life. I love soft combined with hard, old with new, it's a balancing act, as life is. My creations are also sometimes a little "tongue in cheek". A reminder to have fun. Don't take yourself too seriously.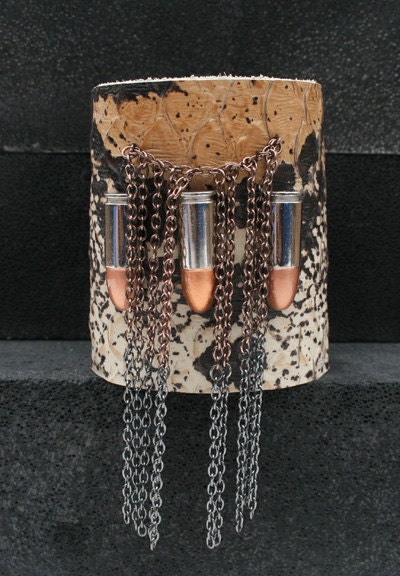 Cuff wrist bracelet features bullet shells!
When did you decide to open an Etsy shop? 
I decided to open a shop on Etsy because it reaches a whole new audience that I could not reach in my little town here in Massachusetts. What I've learned so far is it is very hard to be found! It is a great place to "park" my work but I will have to do a lot of marketing to get the right people to see it.

What else do you want the world to know? 
I would like the world to know that I do what I do because I really love it! I'm just a regular "girl" who wants to be happy on this earth and help those who need it, including all the little animals in the world, to inspire, to be inspired and live life by the golden rule. I don't take myself too seriously and I make it a point to have fun and laugh every day! One of my favorite quotes is "Why fit in when you were born to stand out?" – Dr. Seuss.
Connect with Lynn and tell her what you think: