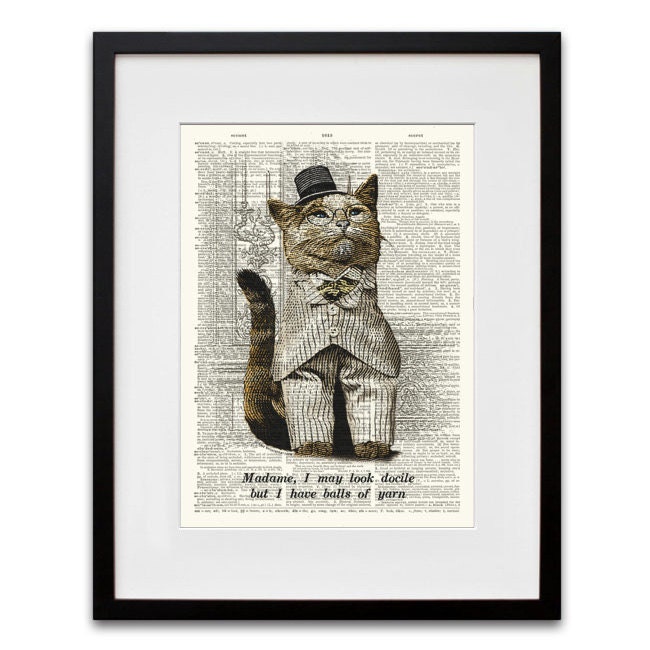 whiskerprints dictionary print on Etsy $7.99
I recently had a chance to interview Maria over at WhiskerPrints on Etsy, She and her husband sell vintage dictionary prints which are  a  combination of their own design and illustration coupled with vintage art. Her husband illustrated the "Lord Jingles" cat engraving which they sell in many variations and slogans. That is my favorite!
Hi Maria! Please tell me a little bit about yourself.
I'm originally from El Salvador, I've been married to my husband for 20 years and we have two wonderful children. I couldn't wish for a more satisfying life as I have so much love around me. My family and I are very close and we love to make things, design, draw and paint; it's a big part of our lives. Creativity is the lifeblood of our family… someone is always doing something creative in the house – usually drawing, writing stories or playing musical instruments. We don't watch a lot of television (we do love movies, though!) so when the kids were little we encouraged them to use their hands and their minds; to be leaders and actively create the world around them instead of just passing through it. They took that ball and ran with it. They've put on so many costumed "plays" in the living room that I thought we were raising an off-Broadway troupe of midget thespians.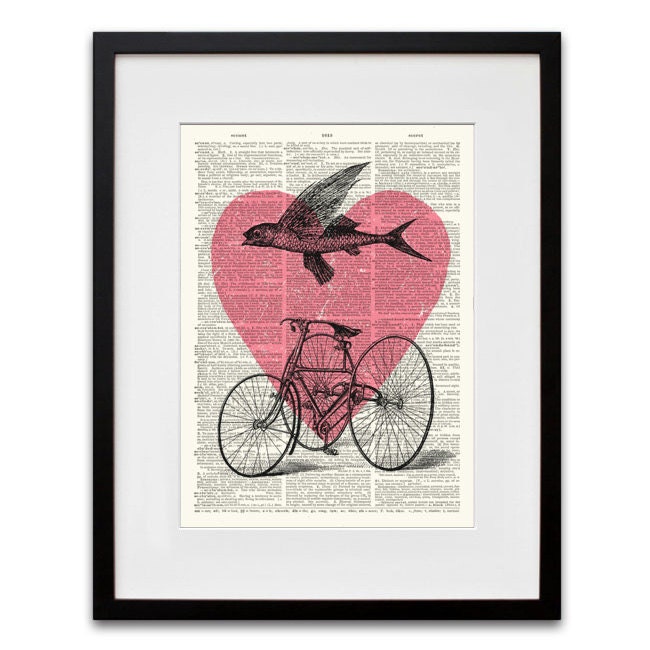 They Say Our Love Is Weird Vintage Dictionary Print $7.99
What made you open an online shop?
Well, it's been a bit of a journey. We had been doing pretty well since the kids were born but we lost our home a few years back when the economy took a downturn. We rented a much smaller house and we discovered we really liked the smaller space. We felt closer emotionally when we were closer together in proximity. Having to do more with less got us thinking about what we had to offer in term of trying to earn a living doing what we loved.
One day we were inspired by someone doing a print over an old dictionary page and we wanted to make a couple for our home. When our friends saw what we were doing they started asking us to make some for them and we had so much fun making them that we decided to turn to Etsy to see if we could sell them online.
We took a lot of time to create ones we loved and thought were inspiring or funny or just cool and vintage-y (is that a word?) so we opened up our shop! Our hope is to inspire the kids with the spirit of self-reliance and eventually make enough money to buy another home. We'll never get a large house again, though; all we really want is a big enough kitchen table to lay out our projects and watch the kids dig in around it. That's heaven for me.
What types of things inspire you?
We've always enjoyed vintage stuff, antiques and old advertising signs and things. Mostly from the turn of the century through the 1940′s. There was a sense of craftsmanship and bold design that got lost somehow since then. I guess that's why we love making dictionary prints so much, you can just do so much with them and the old dictionary paper is so beautiful to print on that I think we'll be doing this for as long as people will buy them.
My husband draws and paints the most wonderful cute animals, he's working on a series now that we're going to be introducing as an art print on watercolor paper soon. Well, as soon as he figures he has enough to show – he puts a lot of time into them and he wants them to be perfect. I think they're really good already – I love his frogs. Looove them.   (He draws a pretty sweet baby pig though, but the frogs steal my heart.)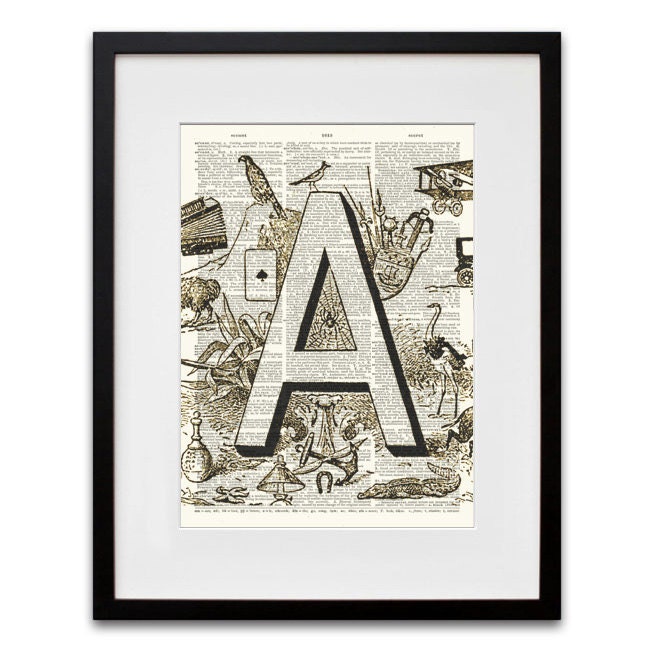 Whiskerprints Vintage Dictionary Prints on Etsy.
What's your favorite materials to use when creating?
I love paper the most. That's why I was drawn to this so much as I love collage and mixed media. I'm also a huge fan of books (we're all avid readers in our house) and I love to rescue and recycle – I mean "upcycle" – old dictionaries that have broken bindings and missing or torn pages. I would never take apart one that was still in good shape of course, but you'd be amazed at how people just don't value old dictionaries, especially if they're in disrepair. I rescued one from the trash bin of a consignment furniture store once. It had a leather cover that was worn to tatters but half the pages were still in great shape. It makes me so happy to give them new life, so to speak.
What's the best piece of advice you've been given?
Oh that's an easy one. My mom always told me, "Mija, follow your heart and do what's right. It all works out fine in the end as long you have love and laughter every day." She's a good one. I really love my mom.
Thank you so much for taking the time out to do this interview, Maria. I love you and your husbands' work, it's so much fun and really beautiful!
Thank you! I was really nervous about doing an interview but this has been fun! I look forward to networking with people on Etsy and the handmade community!
Connect with Maria: 
You can find Maria's work at her Etsy shop Whiskerprints.
On Twitter under @Whiskerprints
On Facebook under Whisker.prints