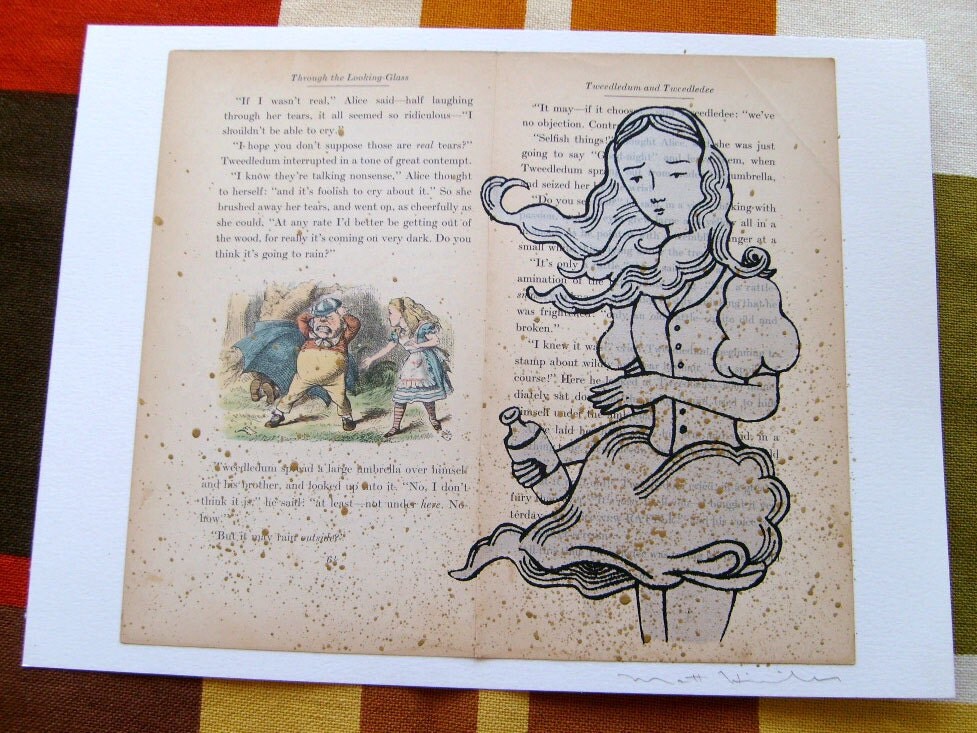 Alie in Wonderland Print by LitKids on Etsy $12 on 1946 Book Page, mounted!
I was able to interview Matt Hinrichs, the artist behind the adorable LitKids Etsy shop. Here you will find adorable screen prints on old antique book pages that are simply lovely and a piece of Nostalgic History!
Tell us more about you!
I am a freelance designer and illustrator working out of Phoenix, Arizona. I share an old (ahem, vintage) bungalow near the downtown area of the city with my spouse, Christopher, and our cat and dog, Eero and Aalto.
Since mid-2010, I have been running my own Etsy shop, LitKids  My LitKids prints are my own designs of classic kids' literature characters, screen printed onto actual pages from their own books.
How did you get into your art?
I've always been the "artist" in my classes as a child – and I don't know why! I've always been drawn to beautiful visuals and have a need to do my own art in whatever way possible. Thirty years on, I am still trying.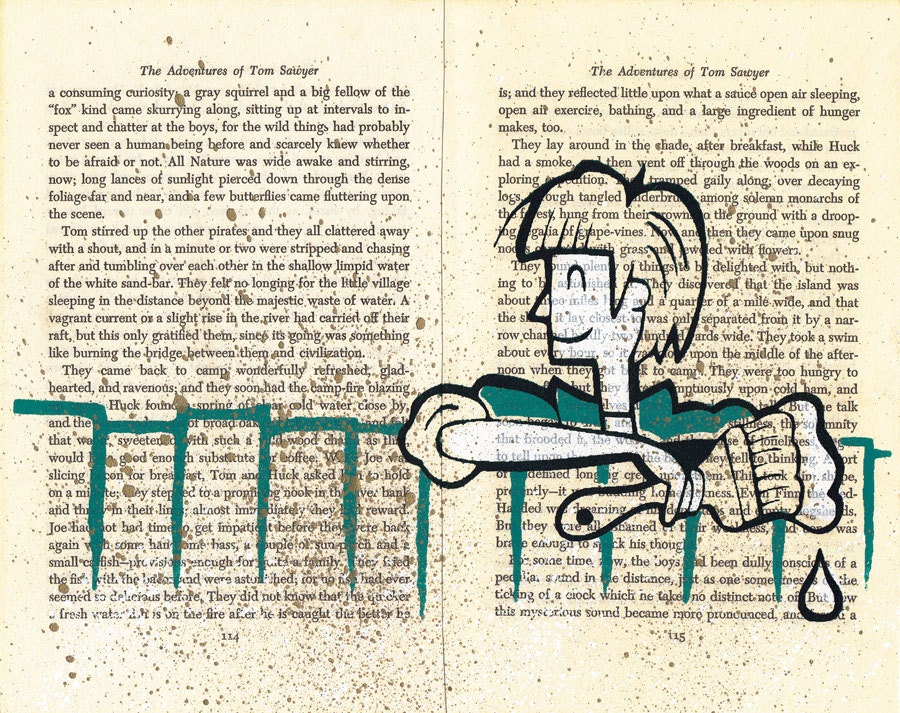 Tom Sawyer print. $12
What made you come to Etsy?
Around 2008-09 (around the time I turned 40, coincidentally), I hit a bit of a life crisis which sent me into a mini-depression with panic attacks and all that wonderful stuff.
Welcome to 40……but really- why Etsy?
I was realizing that my freelance business was hitting a standstill, and the thriving illustration career I always wanted just wasn't happening. I was reading the book "Anne Of Green Gables" and realized I could do my own prints of Anne and try selling them on Etsy. It was a good opportunity to jump back into silk screen printing (which I did a bit of in college). I also felt like the timing was good, since with the rise of e-books people are gradually
feeling nostalgic for actual paper books. After a long, long planning stage, the store opened in May 2010 with just two prints (Anne and Jo March from "Little Women"). By the end of the year, I sold 69 prints. It feels wonderful to do something you love and have it resonate with others.
What challenges have you faced?
The biggest challenge is that I have yet to break even on this enterprise – all the profits go back into materials and supplies to create new prints! I don't mind, however. The shop is still in the stage where I'm building a customer base and distributing my art in an affordable way.
What is working for you to help promote your Etsy shop?
I've kept all of my customers' email addresses in a central database. Occasionally I send out emails alerting them to new products in the store, plus it's a nice way to keep in touch. Just recently, I also ran a small ad on Facebook which (I hope) brought some new customers my way. I also sell matted LitKids prints at a local funky art store here in Phoenix; we are constantly on the lookout for craft fairs and other venues people can see the prints in person – and hopefully take one home!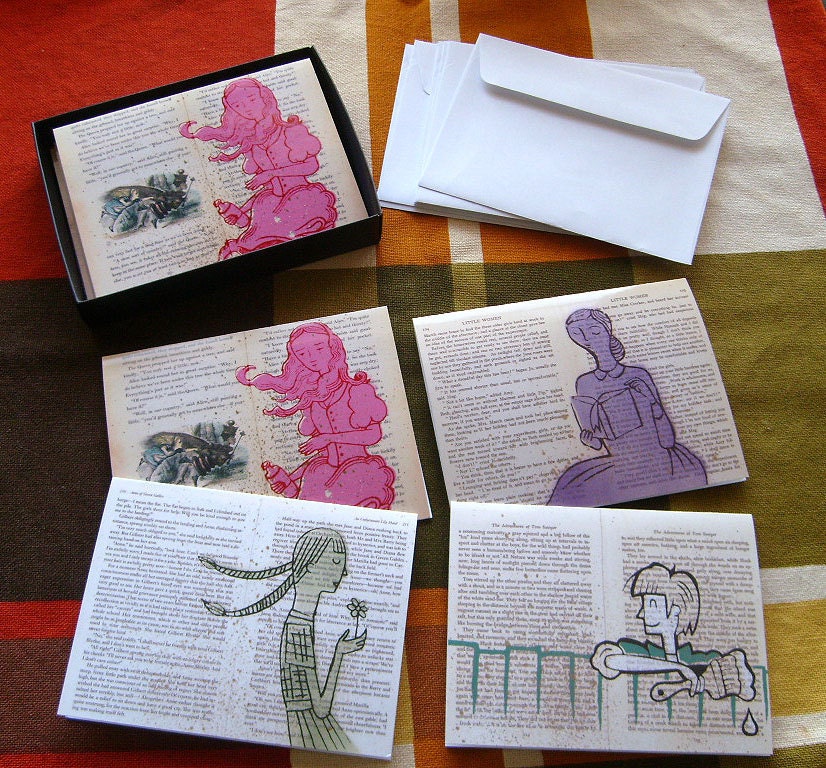 Note cards! Something new in the shop!
Do you use Facebook and Twitter, and how important are these?
In addition to the ad I just mentioned, on Facebook I started a LitKids page which contains updates, news and other fun stuff (just look for LitKids on Facebook and "Like" it!). As for Twitter, I have a personal account on that service (@scrubbles), but I haven't yet explored that for promoting my Etsy shop.
What are your hopes and dreams?
I want to be content with myself and make just enough money to be happy. For now, I am setting my goals on a modest scale. As long as I have my little printing space in our garage and set aside a few hours a week for making stuff, I am right on track.
The Studio: 
Great studio shot!
Tell us more about you, what is one thing we would never guess? 
This is a little odd, but I love all kinds of fried seafood and probably my dream meal is a huge platter of delicious fried fish fillets, french fries, and maybe some onion rings! Christopher and I have our favorite local fish eatery where we sometimes have that kind of feast!
Connect with Matt at the LitKids Etsy shop, on his Twitter account @Scrubbles, or on the LitKids Facebook page.  You may also enjoy reading his Scrubbles.net website!