Phil's art is custom woodworking out of his shop, close to Metamora, Illinois (which is ironically in Woodford County.) He was formerly trained in avionics (aviation electronics) while serving in the Marine Corps. If you look closely, you can see Marine Corps memorabilia and jet aircraft photos decorating his woodworking shop. He currently tests software by profession, so it's not a surprise to find that his digital day job often overlaps his woodworking night life.
Although he learned about woodworking through classes in high school, he credits the natural abilities inherited from his father.  Phil recalls, "My dad did cabinet making on the side. I was the gopher from an early age. The first project of my own that I remember was an exact scale replica of a battleship made from cut-offs from whatever project my dad was working on. I was probably 6 years old at the time so you can imagine just how 'exact' the replica was."
Phil found himself into his woodworking endeavors when he bought a house.  He says, "There are a lot of sophisticated (and costly) projects you can do yourself if you have the right tools and skill." When not creating, he writes for his woodworking web site or answering woodworking questions on Internet forums. He has been featured in Wood Magazine.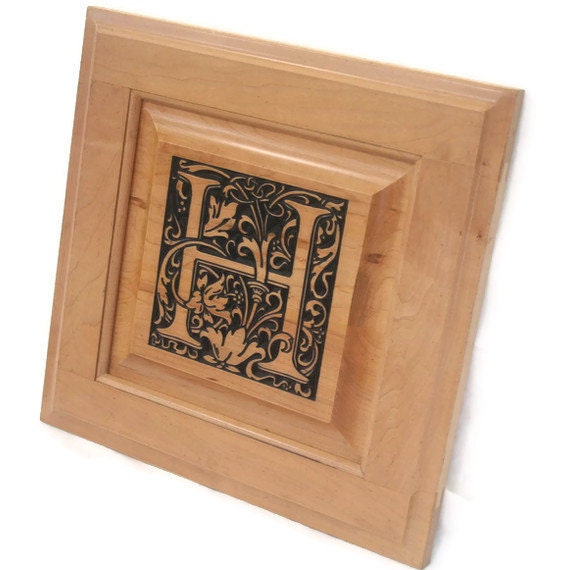 These monogram plaques run about $35 in Phils's Etsy shop
How He Designed the Machine to Make His Designs
Phil taught himself to use CAD software for his profession, and soon found it too useful to resist when doing his woodworking projects. "With CAD software, you can design or plan your project so there aren't too many surprises at the end", he says.  Over time this eventually led Phil into woodworking with CNC equipment. This equipment can be quite expensive, out of reach of most hobbyists and even many professionals. So, Phil took the challenge and designed and built his own CNC router. (I'm certain having a background in electronics and CAD helped!)   Phil explains that "The CNC has opened up entirely new avenues in the areas of design.  If I can draw it, I can make it."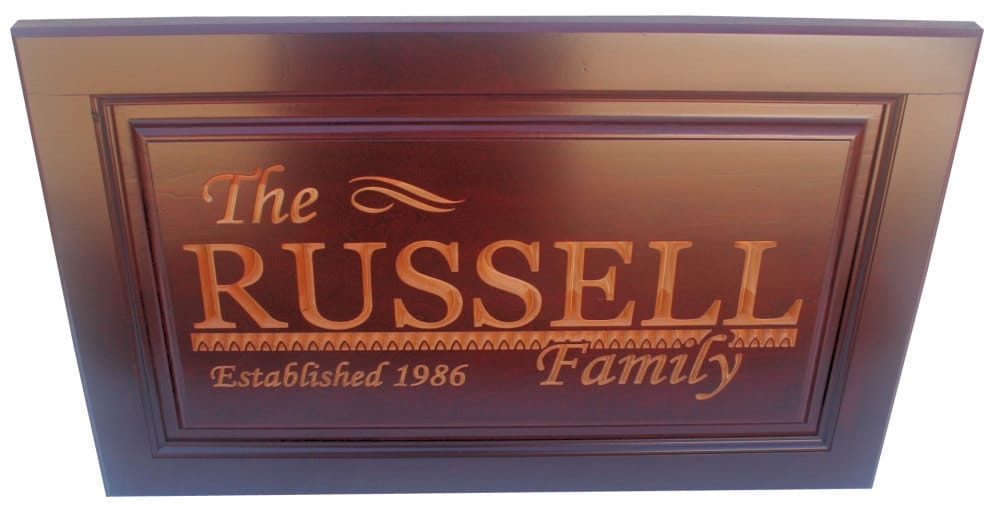 Family signs are a great gift for the new bride and groom.
Mission Style Meets Military 
Phil's design Aesthetic on signs would be considered Mission (Arts & Crafts), Shaker, and Western Victorian. Phil says, "I just love all the old trim work and designs used in the mid 1800's." His CNC machine in his shop is decorated with these scroll designs, similar to those used on gun engravings reminiscent of that era.
Note the old engravings.
Phil prefers to work with native American hardwoods. Some of his stock comes from trees he felled himself and had sawn into lumber. Phil also gets some of his lumber from a local tree feller. He explains, "You cannot buy some of this wood in a lumber yard, it's just not available at this quality level."  Phil will also use upcycled cabinetry, such as doors in some of his designs–but only if they are real solid wood, no veneer!
Connect with Phil 


Phil is relatively new to Etsy and Facebook, and would love for you to drop him a line to say hello, critique his shop, or give him some new ideas! He is looking forward to becoming part of the Etsy community!
Bench Mark Custom Signs and Wonders on Facebook
Bench Mark Custom Signs on Etsy!