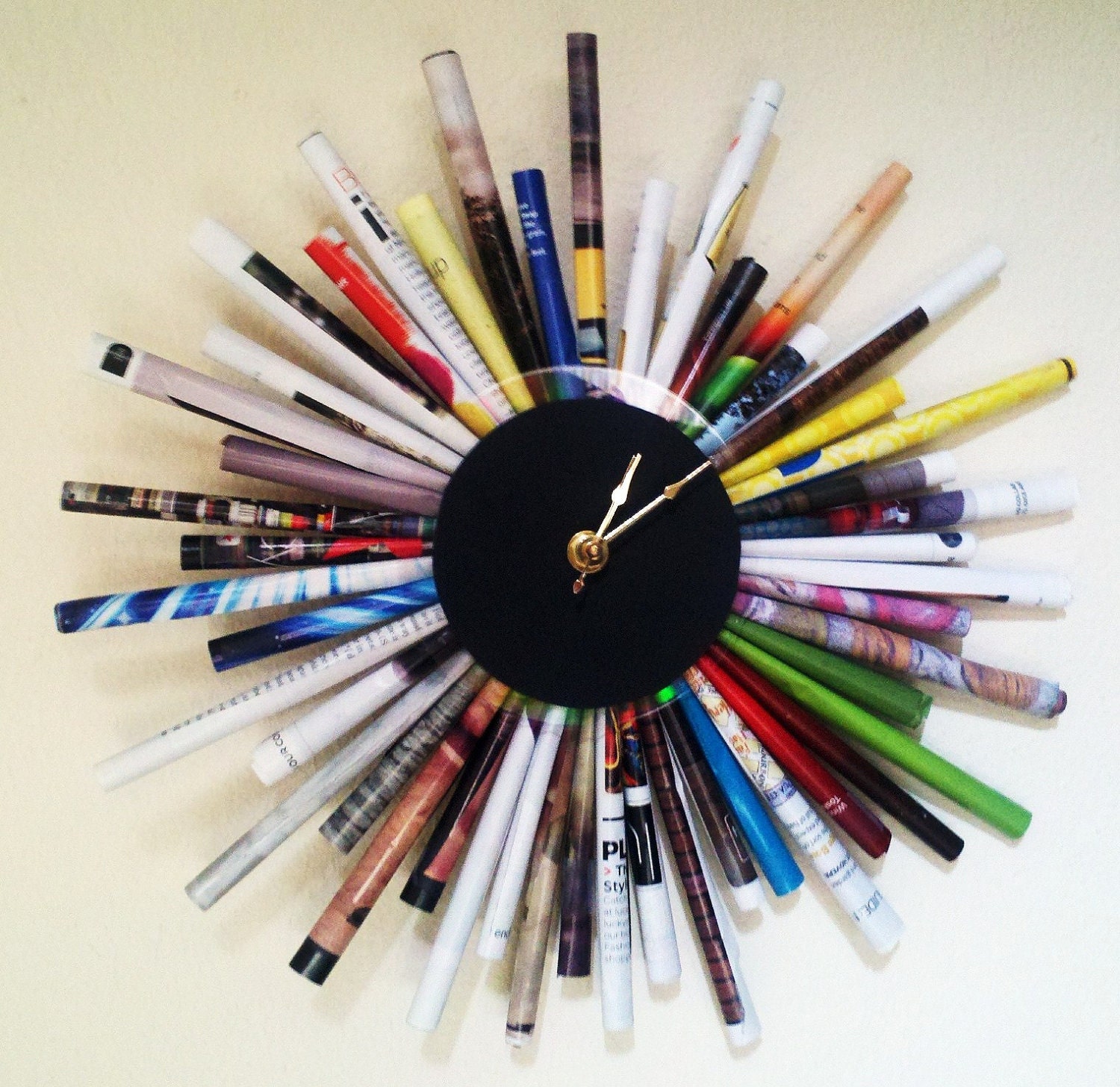 ShannyBeeBo on Etsy: Eco Recycled Magazine Clock
NON- ETSY SHOP USERS:
If you don't have an Etsy shop, you can help your business each day for about ten minutes of your time if you have these four things set up ahead of time. This will take you about a maximum of one hour to set up all these things, then you are done for good!
1. A blog. WordPress, Blogger or Tumblr give you free starter blogs!
2. A Twitter account.
3. A Facebook account (preferably with a page for your business)
4. A Pinterest account. (Find a friend, request an invite!)
(SET UP CONNECTING SERVICES ONE TIME ONLY:)
Step #1 : Use a service to link your blog, Facebook and Twitter together so that when you do a blog post, it gets posted to your Facebook or Twitter automatically and you don't have to be bothered. These are free to use, and I use Networked Blogs, but there are many different services out there.   You only have to link this one time, and then you are good to go.
Step #2:  Link your Pinterest account to Facebook and Twitter under your Pinterest Profile Settings. It should automatically ask you if you want to share your pins to your Facebook timeline, and your answer should be YES! As for Twitter, you have the option of which items / pins to share.  After all, you don't want to be spammy, but clever.
BEGIN: THE TEN MINUTE MIRACLE
First Eight Minutes:
Create a short blog post featuring and discussing your new product.  Make sure your new product and relevant keywords are in the first five placement words of the blog post title.  Remember this will auto-post to Facebook and Twitter, so your title is key. This post should be 200 words, but can be more if you so choose.  (Hey, guess what, that little bit was 58 words!)
Don't fret, once you write a few sentences you are already there.  Make sure you have links on where to buy the product in your post . These should look like this:  Go here to Handmadeology Etsy Shop to find this cool product!
Now, make sure to litter the blog post with great keywords in the label or tag section, as well as within the body of your post.. For instance, if you are discussing a handbag, you should use like words like purse, clutch, tote, or whatever applies.
Ninth Minute:
 Share your blog post picture to Pinterest. The best way to do this is to have a "pin it" toolbar in your browser so when you are done and "publish" your post you can pin the photo. I use Firefox and they make an add on for you that is free. In your Pinterest description write your description with HASH TAGS in some of the keywords (example here is a retro glove mold):
Vintage Industrial Glove Mold  #industrial #retro #antique #porcelain so on and so forth like this:
Here is what I mean by using hashtags on Pinterest.
Why am I using hashtags?  (These things # # # are #hashtags ?) It is a time saving trick. Since you have set your Pinterest up to auto post to Twitter. The first post to Twitter was networked from your blog and only showed a link to your blog post and a title.  This post will show hashtags which are searchable on Twitter.
Note the difference being hashtags are searchable on Twitter.
Tenth Minute: 
Pat yourself on the back. Breathe a sigh of relief. You have done it! You are a social networking genius!